Dresses and garments from The Party Frock are bespoke which means designed and made completely from scratch, to personal measurements for each individual customer. This ensures that the garment has the perfect fit for the wearer and is a unique design tailored just for them.
To design your perfect dress, a consultation will be your first step. This is where I meet up with you to discuss styles and fabrics. We can chat over a cuppa and I can get to know you and your plans a little better, while we look over fabric books.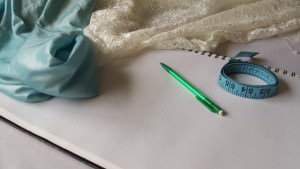 It is advised to book the consultation in advance of at least 6 months of when you would like to wear the garment, but 12 months notice would be ideal.  Due to busy periods I often need longer than 6 months to accommodate orders.
If you already have lots of ideas, take cuttings from magazines and from the internet of styles you like: ie necklines, skirt styles etc. From this I will be able to get an idea of what kind of design you are looking for. Or create a Pintrest board, you can find me here if you want to share!
From this information I can then go on to design the garment and make recommendations for fabrics.
After the consultation I will prepare a quote based on the style, manufacture time of the garment and the cost of the fabrics needed to construct it.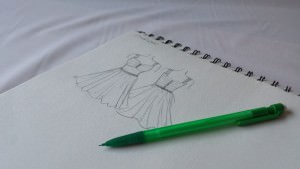 Once this is all finalised a deposit of roughly 50% of the total cost will be required so the production can begin. The remaining balance will usually be paid, either when the order is completed or as a monthly payment plan, to be discussed on booking the order.
The next step will be taking measurements so I can create a pattern for the garment. Then I will make up a calico toile (mock up of the garment) to fit on my customer. There will be a minimum of 2 fittings required to ensure the best fit possible. Wedding gowns will usually take more fittings with a minimum of 3 required.
I am always grateful to have a photograph of my customer in their bespoke garment and love to put them on my website along side testimonials, so if you would like to have your photo on here, please feel free to email me the photograph!!